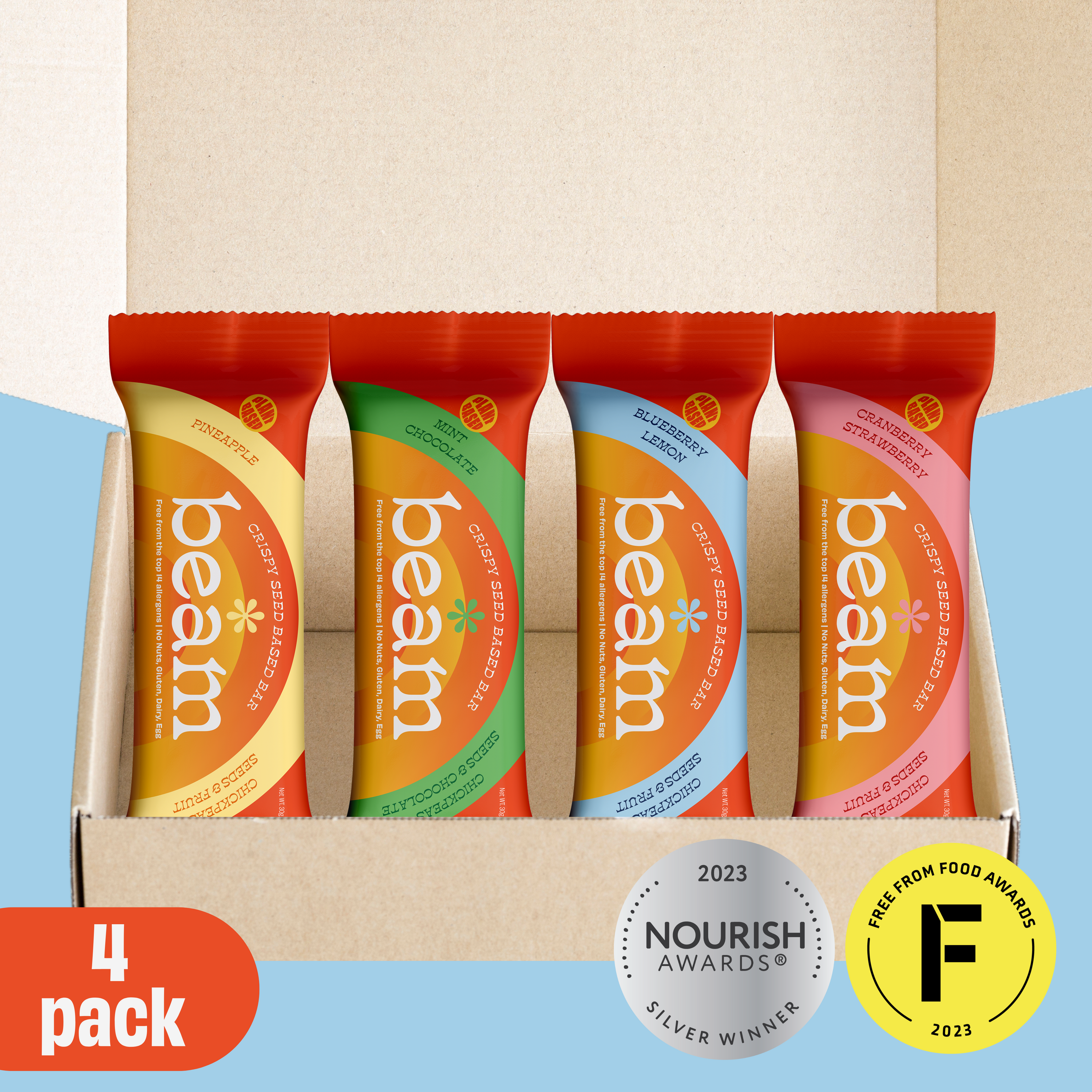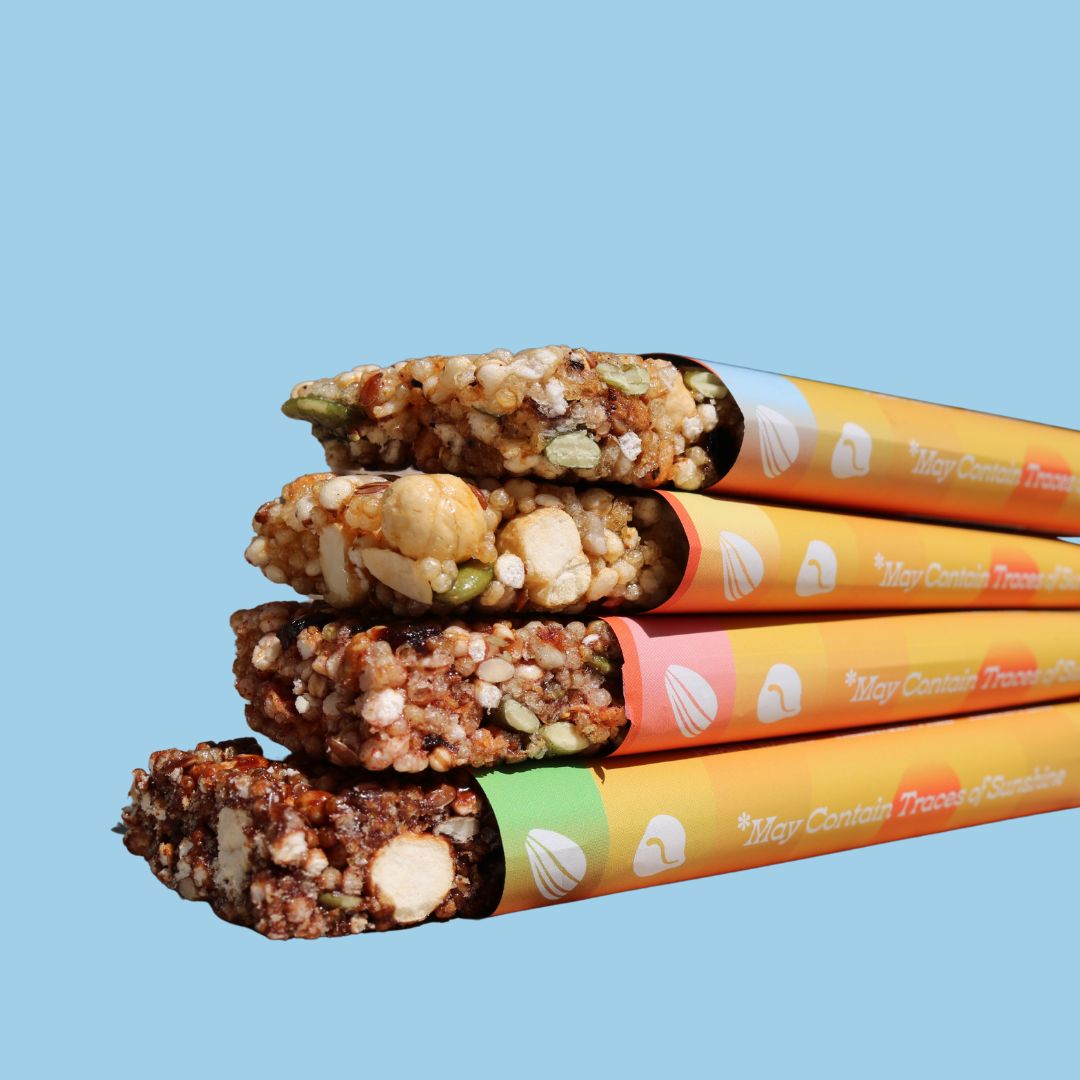 Description
Trial Box | Mixed Selection of 4 Crispy Seed based bars (30g), Gluten Free | Nut Free | Dairy Free | Contains THREE Award Winning* Bars!
When you aren't sure which one to try then why not try them ALL in our trial box. 
1 x Blueberry lemon, 1 x Pineapple, 1 x Mint chocolate and 1 x Cranberry strawberry.
Our trial pack fits perfectly through your letterbox and into your home.  It's the perfect mix of chewy, crispy, crunchy deliciousness. Packed with crunchy roasted chickpeas, quinoa crispies, nourishing sunflower, pumpkin and flaxseeds, to make the perfect light snack.
Safely made in a Certified Nut Free and Gluten Free facility. Allergy Friendly - High in Fibre - Plant Based - Nut Free - Dairy Free - Gluten Free - Palm Oil Free - No GM Ingredients - Certified Kosher
Top 14 Allergen free including Peanuts, Tree nuts, Dairy, Eggs, Gluten, Soy and Sesame!

*Cranberry Strawberry, Blueberry Lemon and Pineapple all received Silver in the 2023 Free From Food Awards
*Cranberry Strawberry won Silver in the 2023 Nourish Awards
Ingredients
Blueberry Lemon Crispy Puff Seed Bar, 30g

Yellow Roasted Chickpeas, Quinoa (13%), Tapioca Syrup, Sunflower Seed (8%), Pumpkin Seed (8%), Apple (7%), Soluble Tapioca Fibre, Cane Sugar, Blueberry (6%) (Blueberry, Apple Juice Concentrate, Sunflower Oil), White Quinoa Puff (5%), Water, Brown Flaxseed (3%), Sunflower Oil, Blueberry (1%), Natural Flavour, Gelling Agent: Agar (E406), Pectin, Lemon, Sea Salt, Antioxidant: Rosemary Extract (E392).

Allergens: None

Pineapple Crispy Puff Seed Bar, 30g

Yellow Roasted Chickpeas, Quinoa (13%), Tapioca Syrup, Sunflower Seed (8%), Apple (8%), Pumpkin Seed (8%), Soluble Tapioca Fibre, Cane Sugar, Pineapple (6%) (Pineapple, Sugar, Citric Acid), White Quinoa Puff (6%), Water, Brown Flaxseed (3%), Sunflower Oil, Natural Flavour, Gelling Agent: Agar (E406), Pectin, Sea Salt, Antioxidant: Rosemary Extract (E392).

Allergens: None

Mint Chocolate Crispy Puff Seed Bar, 30g

Yellow Roasted Chickpeas, Quinoa (15%), Tapioca Syrup, Soluble Tapioca Fibre, Pumpkin Seed (7%), Sunflower Seed (7%), Cane Sugar, White Quinoa Puff (6%), Water, Sunflower Oil, Brown Flaxseed (4%), Cocoa Powder (3%), Cocoa Paste (3%), Gelling Agent: Agar (E406), Pectin, Natural Flavour, Sea Salt, Antioxidant: Rosemary Extract (E392), Mint.

Allergens: None

Cranberry Strawberry Crispy Puff Seed Bar, 30g

Yellow Roasted Chickpeas, Quinoa (12%), Tapioca Syrup, Sunflower Seed (8%), Pumpkin Seed (8%), Soluble Tapioca Fibre, Apple (7%), Cane Sugar, White Quinoa Puff (6%), Water, Cranberry (4%), Brown Flaxseed (3%), Apple Juice Concentrate, Sunflower Oil, Strawberry (1%), Gelling Agent: Agar (E406), Natural Flavour, Pectin, Sea Salt, Antioxidant: Rosemary Extract (E392).

Allergens: None
Nutritional Information
Blueberry Lemon Crispy Puff Seed Bar, 30g

Per 100g
Energy: 1627kJ/388kcal
Fat: 13g
of which saturates: 1.9g
Carbohydrates: 52g
of which sugars: 25g
Fibre: 13g
Protein: 9.3g
Salt: 0.17g

Per 30g
Energy: 498kJ/119kcal
Fat: 4g
of which saturates: 0.6g
Carbohydrates: 16g
of which sugars: 7.5g
Fibre: 3.8g
Protein: 2.8g
Salt: 0.05g


Pineapple Crispy Puff Seed Bar, 30g

Per 100g
Energy: 1636kJ/390kcal
Fat: 13g
of which saturates: 1.9g
Carbohydrates: 53g
of which sugars: 25g
Fibre: 12g
Protein: 9.3g
Salt: 0.22g

Per 30g
Energy: 497kJ/119kcal
Fat: 4g
of which saturates: 0.6g
Carbohydrates: 16g
of which sugars: 7.5g
Fibre: 3.7g
Protein: 2.8g
Salt: 0.07g


Mint Chocolate Crispy Puff Seed Bar, 30g

Per 100g
Energy: 1727kJ/413kcal
Fat: 17g
of which saturates: 3g
Carbohydrates: 47g
of which sugars: 18g
Fibre: 14g
Protein: 11g
Salt: 0.18g

Per 30g
Energy: 511kJ/122kcal
Fat: 5g
of which saturates: 0.9g
Carbohydrates: 14g
of which sugars: 5.4g
Fibre: 4.2g
Protein: 3.2g
Salt: 0.05g


Cranberry Strawberry Crispy Puff Seed Bar, 30g

Per 100g
Energy: 1632kJ/389kcal
Fat: 13g
of which saturates: 1.9g
Carbohydrates: 52g
of which sugars: 24g
Fibre: 13g
Protein: 9.6g
Salt: 0.18g

Per 30g
Energy: 493kJ/118kcal
Fat: 3.8g
of which saturates: 0.6g
Carbohydrates: 16g
of which sugars: 7.2g
Fibre: 3.9g
Protein: 2.9g
Salt: 0.05g